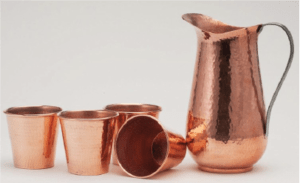 Copper possessed several properties that made it particularly suitable for water storage. Firstly, copper is highly malleable, allowing for the creation of intricate pot designs. The metal's excellent thermal conductivity ensured that water stored in copper pots would cool rapidly, providing a refreshing drink even in hot climates.
Moreover, copper demonstrated antimicrobial properties, which inhibited the growth of certain bacteria, viruses, and other microorganisms. Ancient civilizations may not have fully understood the scientific reasons behind copper's effectiveness, but they observed that water stored in copper vessels seemed to have a lower incidence of spoilage and sickness compared to other containers.
Copper's antimicrobial properties are due to the oligodynamic effect. When water comes into contact with the copper surface, copper ions are released, which have toxic effects on microorganisms. This effect helps in killing or inhibiting the growth of bacteria and viruses, thus reducing the risk of waterborne illnesses.